Gold Mine Store
Welcome to Girl Scouts of Central California South's official Gold Mine Store! Your purchases help our council earn revenue that provides programs and training for more than 12,000 girls and 3,000 adults in Fresno, Madera, Kings, Tulare and Kern Counties. 
In-Store Shopping
We've missed you, and we have some great news! APPOINTMENTS NO LONGER NEEDED! Starting Tuesday, Feb. 2nd, 2021, the Gold Mine Stores will be open Monday through Friday from 10:00 a.m.-6:00 p.m. (Saturdays by appointment only)
We are so happy to be back. We're closely following guidance from local health authorities.
The health and safety of our customers, associates, and members of our community remain our top priority. To help keep everybody safe, you'll notice some changes when you shop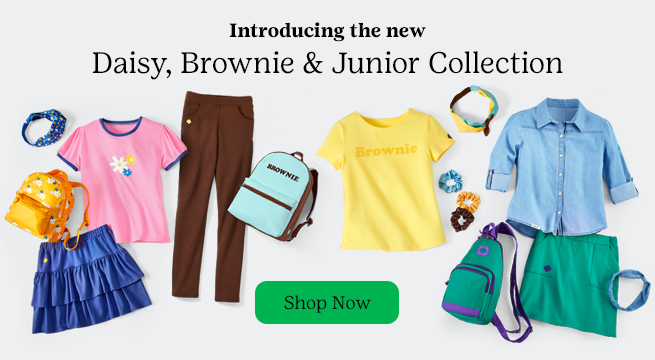 We're limiting the number of customers allowed in the store, based on local guidelines and store management discretion. Please avoid entering the facility if you have a fever or are not feeling well.
Face masks are required for all customers and associates.
We ask that you use hand sanitizer (provided) before entering the store.
We're increasing the frequency of cleaning and disinfecting in all stores.
We strongly encourage social distancing of at least 6 feet between customers and associates.
Curbside Pickup
If you prefer not to shop in-store yet, that's okay! You can still email your orders, and curbside pick-up is still available. Just send an email with your order to the location of your choice, and a sales associate will reach out to you for pick-up time and payment.
Store Locations & Hours
Hours: 
Closed Saturday & Sunday
Monday - Friday  10:00 am - 6:00 pm
*Stores close during lunch and holidays.

Fresno Gold Mine Store
1377 W Shaw Ave., Fresno, CA 93711
(559) 470-6714
goldmine@girlscoutsccs.org
Bakersfield Gold Mine Store
1831 Brundage Lane, Bakersfield, CA 93304
(559) 470-6702
goldminebakersfield@girlscoutsccs.org
Shop Online
Need a few items but can't stop by our Council Goldmine Stores? Shop online & have them delivered straight to your door. Delivery Option is available via Girl Scouts Official Online Store only. Council does not have access to the Official Online Store inventory or tracking information for orders made via the Official Online Store. Cookie dollars cannot be applied for orders made on the Official Online Store.