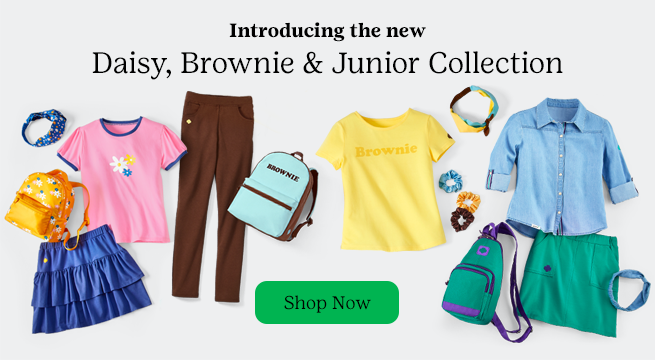 Gold Mine Store
Welcome to Girl Scouts of Central California South's official Gold Mine Store! Your purchases help our council earn revenue that provides programs and training for approximately 4,000 girls and 2,000 adults in Fresno, Madera, Kings, Tulare, and Kern Counties. 
Gold Mine Stores will be closed from August 8th, 2022 through August 12th, 2022 for inventory. Thank you for understanding. 
Due to the worldwide supply chain and shipping difficulties, GSUSA will be implementing price increases to certain items effective July 11th.
Click here to read more about items affected and important dates regarding price increases.


Make sure you have everything placed correctly on her uniform! Follow these handy charts in the updated GSUSA Badge Placement booklet.
Store Locations & Hours
Hours: 
Closed Saturday & Sunday
Monday - Friday  10:00 am - 6:00 pm
Fresno Gold Mine Store
1377 W Shaw Ave., Fresno, CA 93711
(559) 470-6714
goldmine@girlscoutsccs.org
Bakersfield Gold Mine Store
1831 Brundage Lane, Bakersfield, CA 93304
(559) 470-6702
goldminebakersfield@girlscoutsccs.org
*Stores closed on all major holidays.
Upcoming Dates that the Shop Will Be Closed: 
February 21 - President's Day
May 30 - Memorial Day
July 4 - Independence Day
September 5 - Labor Day
November 11- Veterans Day
November 24-25  - Thanksgiving and the day after
December 25 - Christmas Day
*Additional Closure Dates Will Be Posted on Facebook
Shop Online
Need a few items but can't stop by our Council Goldmine Stores? Shop online & have them delivered straight to your door. Delivery Option is available via Girl Scouts Official Online Store only. Council does not have access to the Official Online Store inventory or tracking information for orders made via the Official Online Store. Cookie dollars cannot be applied for orders made on the Official Online Store.
Due to COVID-19, GSCCS stores follow the safety requirements specific to retail establishments by the County of Public Health, Order of the Health Officer.