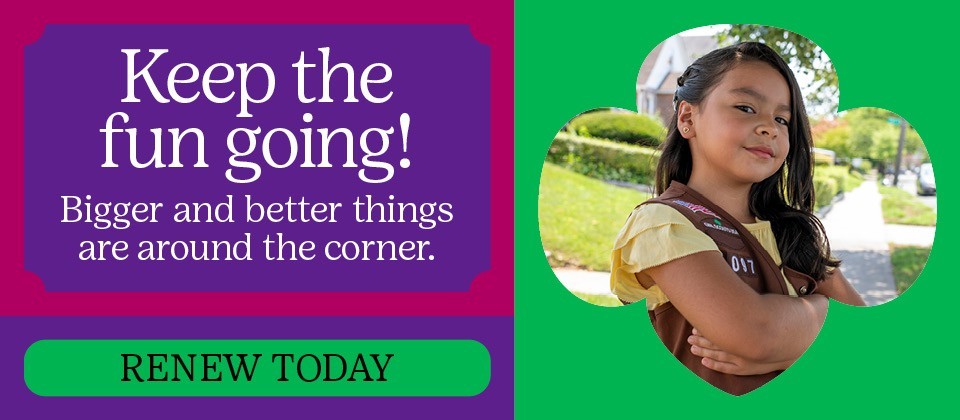 Strength, resilience, togetherness, and the support of community—that's what Girl Scouts is all about. So in this uncertain world, you can count on one thing for sure: today, tomorrow, together, we are on your team.
When you stick with Girl Scouts, you're not just giving your girl something to do—you're giving her someone to be. The bravest, boldest, best version of herself. The version of herself that walks with her head a bit higher and acts with confidence.
And as she grows, we'll grow with her, guiding her through life's ups and downs, supporting her strengths, and showing her new and exciting paths to take.
Stick with us—the best is yet to come.
The last year has proven that we've got this, Girl Scouts…today, tomorrow, together and we are so excited that you will be joining us for another year full of Girl Scout fun! We want to show our appreciation of your commitment to Girl Scouts by ensuring that this year is packed with opportunities for you to benefit from your Early Bird membership. With this in mind, we are excited to announce our GSCCS Early Bird All Access Club. As a member of the GSCCS Early Bird All Access Club you can enjoy the benefits of Early Bird membership year-round. Your exclusive club card gives you access to discounts, perks, and fun available only to Early Bird members in hopes that you have the best Girl Scout year yet. 
Financial Assistance

We know this time has brought about financial hardships for many families in our council and around the world. We are committed to offering financial assistance to any girl who needs it.
Families can request financial assistance when renewing their memberships in MyGS.
Have a question?  We are happy to help! 
Call us at 800-490-8653 or send us an email.